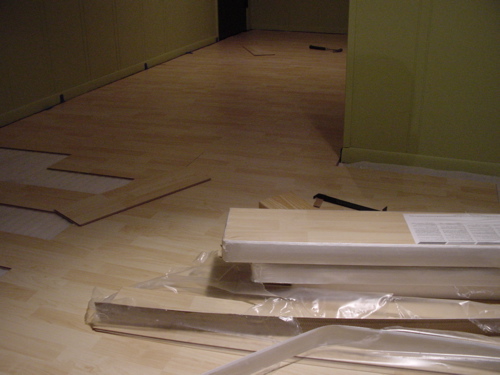 Home renovation should not be a hassle. It should be a time of excitement, a time when you can examine all your options and choose the perfect new features for your home. The best way to enjoy this time is to hire professionals who treat each job as the unique project that it is. So, if you're on the hunt for the right laminate flooring installer to transform your home, don't settle for less than the best. When you need professional laminate flooring installation in Hampton Roads, Norfolk, or Virginia Beach, Home Floors Galore, LLC, is the name to know.
Our team of laminate flooring installers can help with every aspect of the job, from the initial planning and design stages through the final approval. We also sell laminate flooring materials at cost, which passes substantial savings on to you. And, unlike other laminate flooring companies out there, we add to your convenience by removing and hauling away materials from old flooring and subflooring prior to your new project. To learn more about our comprehensive and budget-friendly services for laminate flooring installation, call today!
Install Laminate Floors, Enjoy Numerous Benefits
It's no wonder why stone, tile, and wood laminate floors are popular alternatives for budget-conscious homeowners. For example, some advantages of laminate flooring include:
Affordability:

 Laminate is made of wood composite, a.k.a. a high-density board composed of wood chips. It is then covered with a high-resolution photograph to simulate the appearance of hardwood, ceramic tile, natural stone, or any other surface. Therefore, it is often half the cost of the real thing.

Durability:

 Those who choose to install wood laminate floors rave about their strength and longevity. Laminate will not fade due to persistent sunlight and is resistant to scratches from foot traffic, animal paws, furniture, and other daily realities. This durability also plays into its affordability. The floor keeps looking great year after year, so there is no need to repair or replace!

Speedy installation:

 The tongue-and-groove feature of laminate boards makes laminate flooring installation a snap! This floating floor does not require glue or nails, so it is ideal for customers who are looking for affordable, attractive floors without the wait.

Endless design options:

 Homeowners who choose to install laminate floors have their pick of beautiful wood shades and grains. You can also opt for tile, marble, or stone lookalikes, as well.

Easy maintenance:

 With laminate, there's no need to break out the wax or polish. A quick sweep, vacuum, or mop is all you need to keep your laminate floor clean and gleaming. Plus, since laminate is so easy to repair, you'll never have to worry about living with a damaged floor for long.
Your floor, like every aspect of your property, should complement your lifestyle. Call the professional laminate flooring installers at Home Floors Galore, LLC, today to learn more about your options. As a fully insured and licensed laminate floor contractor, we truly enjoy our craft. We will go the extra mile to make sure your floor surpasses your expectations and serves you well for years to come, so get in touch with us today!
Want more info on how Home Floors Galore, LLC, can save you money on flooring? Check out our Flooring Sales page!